6 Crucial Things You Need to Ponder for Effective SEO
12/13/2021 12:00 AM
by Malik Junaid
in Seo
---
In this era when almost 70% of worldwide businesses have websites, awareness of search engine optimization is mandatory. We cannot underestimate the importance of SEO for a website's ranking. However, still, entrepreneurs do not apply the most effective strategies for improving a website's ranking on Google.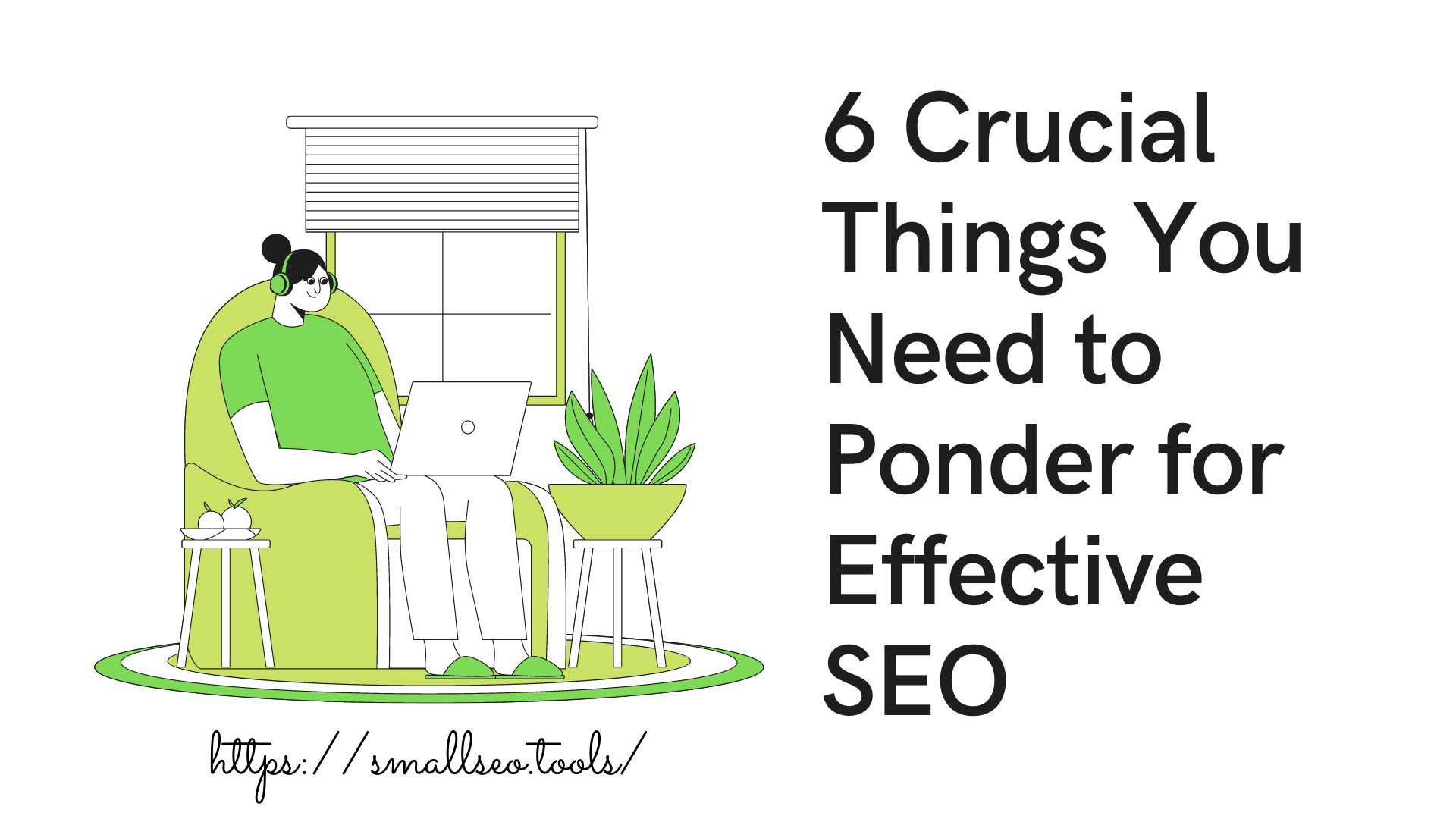 Have you ever analyzed the reason why some URLs appear on the top and how does it affect the business? Top results always get more attention and traffic. It ultimately helps in improving the sales volume when a business website is ranked in the top results. So, let's explore some most effective strategies of SEO:
Focus on Keywords
The first thing is to analyze targeted keywords as per your business niche because without knowing KWs, you cannot make appropriate strategies. After KW identification, the next step is to know the competition because low competition means you can get them ranked easily and in minimum time.
However, high competition demands more effort and time. You can find the best performing keywords on various online platforms but make sure you rely on the best one. Focus on keywords can help you design a better SEO plan.
Always Prefer Organic Approach
When you do SEO of the website, make sure to rely on an organic approach. Initially, it may seem tough to get traffic organically however you can reap more benefits out of it. You might have heard that organic SEO brings slow results but as compared to inorganic, it proves less costly.
One should know crucial tactics of organic SEO because it invites original traffic to the website who actually show interest in buying products. Inorganic SEO proves costly because you'll need to invest in paid campaigns. So, it is better to rely on something that can help you get potential customers.
Write Eye-Catchy Content
Content is the backbone of search engine optimization and when you follow crucial tactics, make sure to write eye-catchy blogs as per targeted keywords. Uniqueness is also important because when you publish plagiarized content, it can go into the black list and your website will reap adverse results. Use this plagiarism checker to check for duplicate content.
You can achieve the goal of SEO by writing industry-based content because relevancy is crucial. Apart from it, titles are also important because people get attracted to content after reading the caption. So, if you improve titles, more traffic will land on your website.
Optimize Speed of the Page
Do you know how the speed of a website affects SEO? It can distract people who have to wait on the site to get the page loaded and ultimately, you may lose some potential audience. So, it is mandatory to optimize the speed of the page and while doing so, it would be better if you keep the loading speed in nanoseconds. Check Page Speed of Website.
Websites with a minimum loading time get ranked early and this is a reason SEO experts advise keeping an eye on the website's loading time. Optimization is easy and you can do it effectively with basic knowledge of the field.
Unique Strategies Help in Early Improvement
When you choose to do search engine optimization of a site, make sure to follow tactics that can actually help in improvement. Going with the flow will land you nowhere so make sure to come up with something that can grab the attention of the audience. When you craft strategies, try to add some uniqueness for creating hype because ordinary content never gets enough attention. This will help to get instant growth.
White Hat SEO is Mandatory
When you do SEO, make sure you rely on white hat strategies only. It is crucial to learn basic tactics of SEO because sound knowledge of the field is indispensable. Instead of adopting a trickery or paid approach, the best approach is to follow Google guidelines. You can read quality blogs about white hat strategies because this will enhance your grip on the field.
If you choose to outsource, try to give an impact to an outsourcing company that you have a sound knowledge of SEO. However, if a company insists on paid SEO, it is better to avoid that because it can double your cost. In short, these strategies are crucial to follow for effective SEO.