Suppose you have written an article and want to know how many characters or words it has. Then if you start counting one by one, sit back and get started because you are about to go on a long counting journey. So, what if we tell you that there is a way by which in no time you can see how many words or even the characters that the article is holding. This app is specially made for people who wrote lengthy blogs and articles, and for people who wrote these long thesis reports assigned to them, and then they want to see the word count at the end. This app, "Word Counter", is made for your ease. This SEO tool will help you determine how many words are present in the article. One of the leading features of this useful tool is if your article is in any language of the world, it will still count these words. Whether it is in English, Urdu, Chinese, Spanish, or Japanese, this software will help determine your article's word count. Along with the word count, this tool has a variety of options too.
Features of Word Counter Tool:
Number of words
Number of characters
Number of sentences
Number of paragraphs
The reading level
The reading time
Speaking time
Keyword density x1,x2 x3
So you can see that you can enjoy all of these options in one single tool that is word counter. Let's discuss these features one by one to gain an understanding of how they work and in which ways they can help you out.
Number of words
The first feature of this Seo tool is the number of words calculation. When you add your article to our Seo tool, it will show you how many words are present in the whole article. You only need to copy-paste the content, and it will show you the exact number of words present in the article as the tool will count the words provided to it. So, in just one easy step, you can see how many words are there.
Number of characters
Now, if we move on to the next feature, this feature is about the number of characters present. No other app has this option, as it also shows that the word "Apple" has 5 characters in it. So you can also see that if the number of words is 65, then there might be 400 characters in it. Therefore, you can see the number of characters in this Seo tool too.
Number of sentences
The next feature is the number of sentences. When you add the article in the context, then it will show how many sentences are present in this article. So another worry of yours that how many sentences are present in my article; this Seo tool will tell you that too.
Number of paragraphs
Now, if we move on to the next feature, this feature is about the number of paragraphs present. It will show how many paragraphs this article comprises. If it is a long article, then there might be lots of paragraphs that are hard to calculate and will take time to check one by one. Time is money; they say so that's why you should not waste your time counting the number of paragraphs. Our word counter will tell you in seconds how many paragraphs are present.
The reading level
Reading level means that your content, when read out by people, will show that how people will perceive it. This means it will show that either the article is easy to read for kids or difficult to understand by adults. So reading level will show that it is for beginners, intermediate or of expert's level as sometimes, it is hard to get like people do not commonly speak the words used.
The reading time
Reading time will show that how much time it will take to read out the whole article or your blog. When you copy-paste the article in word counter, it will show that how much reading time is required, like this article will take up to 10 mins to read. So, you can also see that if you're read this article, then this amount of time will be used in it.
Speaking time
Speaking time means how much time it will take if you rattle out this whole context in words. The speaking time is less as compared to reading time as when you speak; it takes lesser time to read the whole article. So, this Seo tool will also show what the speaking time of the article is.
Keyword density
Keyword density is one of the most important things to look at in an article. As it shows that the number of times this keyword has appeared on websites. It is mostly calculated by a percentage of the total word count. In Seo article, normally, a percentage of 1-2 is considered good for an article. Our Seo tool will show you this feature too, and it will tell you that what the keyword density of your article is. So, you can see how your article will look like and show you the density of keywords.
So from the above discussion, you can analyze that this app facilitates you with a lot of features that are hard to find in one single tool. You can use our word counter application to use these features as you only need to copy-paste your written article and then click on the count word button to access these features. One of the most amazing features is the no barrier in language option. This application gives you the opportunity to write an article in any language, and it will still see how many words, characters, speaking time etc., it will take for this article or blog post. So, hopefully, with these amazing features, you will count "word count" as your new best friend and enjoy this Seo tool.
Word counter is an important element as it counts how many words are there in a particular article. Naturally, it is impossible to count words in a lengthy article, however, this free SEO tool can count a number of words in your article. It also tells the total character count. Copy-paste the text and click on the "count word" button and the tool will count the word and characters of the text you provided. The best part of this tool is that whether you want to count words in Hindi, Urdu, Chinese, Russian, Spanish, English, Japanese, or any language, you can use this software for all languages.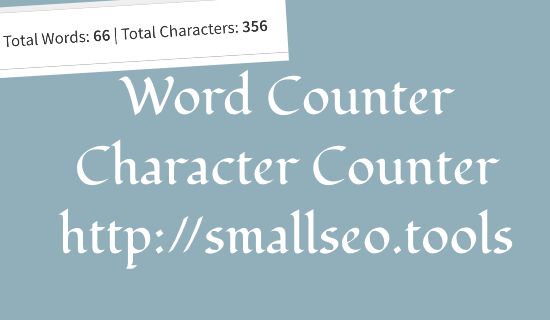 In blog articles, there is no limit to the number of words that can increase its ranking in Google Search results. There is a misconception among various people that useful articles must be in the range of specified number of words. But, this is not so.
Shorter articles can be more valuable as compared to longer articles if they are written in your own words and do not copy paste the content from Internet or somewhere else. If a particular article can be written in 200 words, never use 500 words to write that article. Use this word counter tool whenever you need to know the number of words in your article, however, word count is not as important as you might think in web content.