Common Excel Uses and How to Convert Excel into PDF File
03/11/2023 12:00 AM
by Malik Junaid Rasheed
in Software
---
In the modern business world, Excel is one of the most crucial pieces of software. It is an effective tool for organizing, analyzing, and displaying information clearly. Excel can assist you in making smarter decisions and staying one step ahead of the competition, whether you are a small business owner or a major corporation. We'll go through why Excel is so useful, and then show you how to turn Excel into PDF with the use of the smallseo.tools website.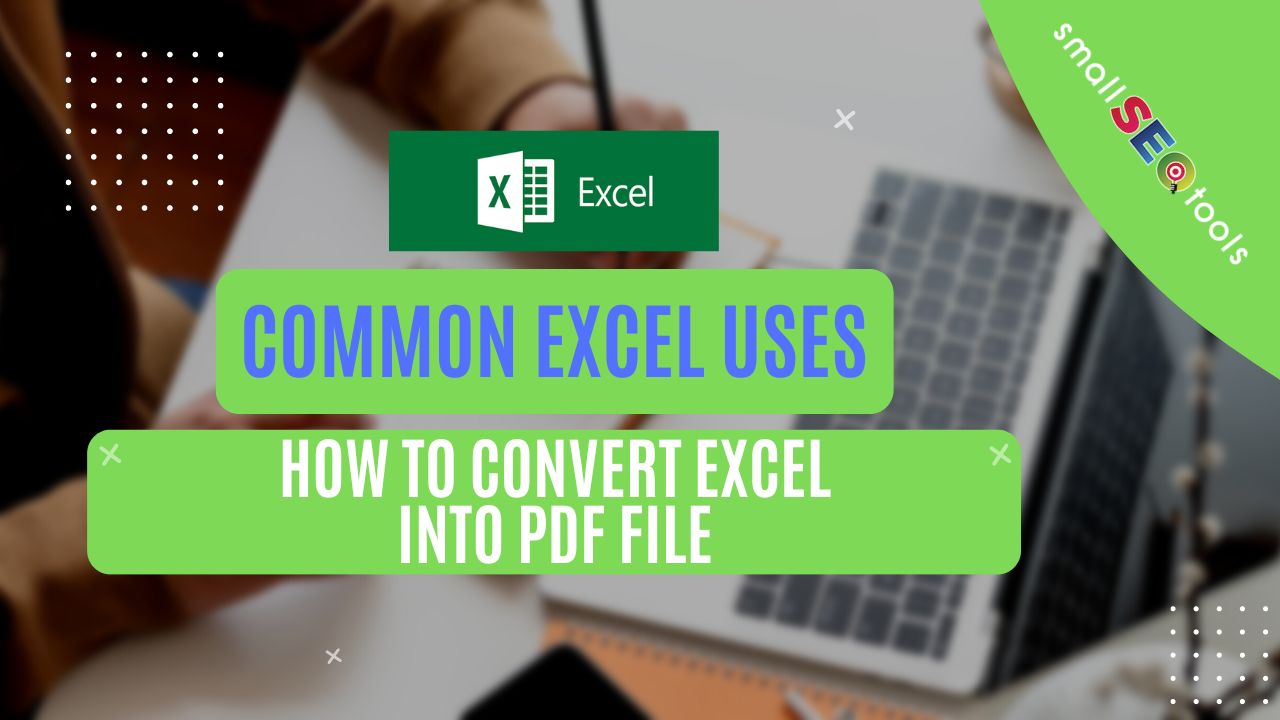 Common Uses of MS Excel
Excel is a flexible program that may be put to many different uses. Data management and analysis are two of Excel's most prevalent applications. Everything from accounting records to stock levels can be included. You may manage and organize data in Excel in a straightforward and understandable manner. With its robust formulae and functions, you can swiftly calculate and analyze data to make smarter business decisions.
Making charts and graphs that look nice in Excel is another fantastic function. These can be used to visually display data in a way that is simple to comprehend and convey to others. Excel can help you generate eye-catching and useful visualizations, whether you're presenting data to your team or a client.
Excel is a fantastic tool for project management in addition to its analytical and visual skills. Excel can keep your projects on track and guarantee that they are finished on time and within budget by allowing you to track and manage tasks, deadlines, and resources. Larger projects with many participants and moving pieces benefit greatly from this approach.
Now that we've established Excel's value, we can talk about using the smallseo.tools website to transform Excel into PDF. PDF stands for Portable Document Format and is widely used for document sharing and printing. You can present your data in a polished and user-friendly fashion by converting your Excel files to PDF.
If you want to learn advanced level of MS Excel you can try registering with Excel Training Dubai by Rolla Academy.
Converting Excel File into PDF
You may quickly and easily convert your Excel files to PDF using the Smallseo. tools website, which is a free online application. You can start using the tool right away by going to the website and selecting the "Excel to PDF" button. Your Excel file will then need to be uploaded. The application will convert the file to PDF format after it has been submitted and give you a link to download it. The PDF document can then be downloaded and used as needed.
In conclusion, Excel is a crucial piece of software for effectively managing, analyzing, and presenting data. Excel can assist you in making wiser business decisions and maintaining a competitive edge thanks to its robust features. One fantastic technique to make sure your data is displayed in an organized and accessible fashion is to convert your Excel files to PDF using the smallseo.tools website. If you haven't already, I recommend trying both Excel and the smallseo.tools website to see how they can improve your company's performance.