InVideo Review: Video Editing Made Easy or Not?
09/29/2021 12:00 AM
by Atharva Paliwal
in Reviews
---
Overall Score: 2/5 [Not Recommended]
In recent times, the demand for short videos has been on a record hike. The market is simply booming. Thus, it compels influencers and brands to invest in short videos to stay hooked on their target audience.
So, continuing with this trend, InVideo is a valuable tool for editing and creating any video type for your prominent social media channels, marketing, and branding. If you are looking for picture editor app only then Adobe is the best solution.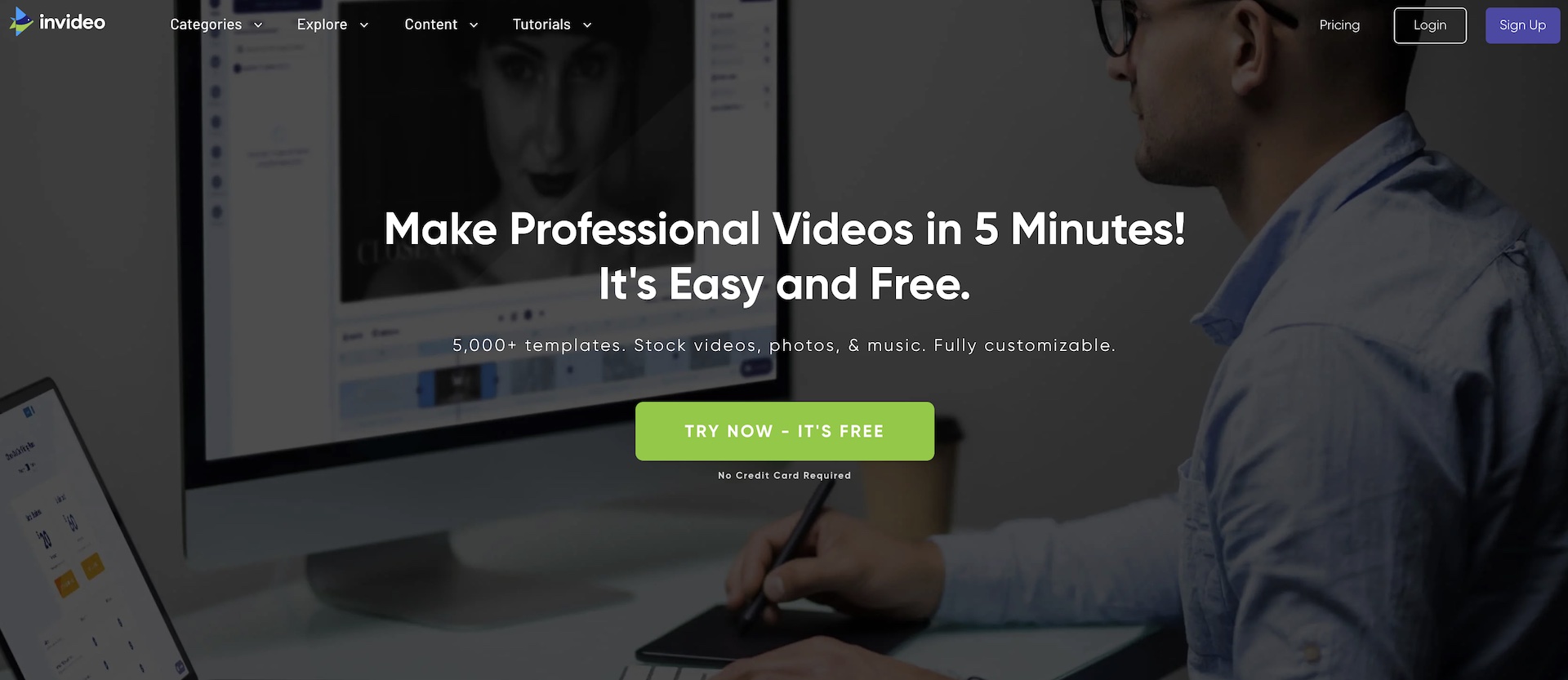 It's a productive web-based tool that allows you to create amazing animations, short clips, images, and content into the best quality videos.
Moreover, InVideo is a phenomenal advanced software tool that helps create some normal-looking videos that turn out into highly engaging and extraordinary videos and that too of different types.
In addition to this, one can artistically create fantastic video clips with the help of InVideo with blank templates, Premium Templates, and Preconfigured templates.
What Makes InVideo So Much Special?
InVideo lets you create videos with ultimate ease, and they especially prove to be out-of-the-box for promotional purposes, presentations, fabulous slideshows, and efficient marketing campaigns.
Such a platform gives you a helping hand in making informative or knowledgeable clips, as they have a great collection of significant templates.
You can use such templates to create what your thought process allows you to craft. Furthermore, with over a million images, videos, and audio samples, users can help and amaze themselves by making jaw-dropping videos or clips.
Today, InVideo holds its position among the best video-makers that are showered with immense popularity. Not only this, the specialty of making videos within a minute makes this tool stand out from the rest.
So, have a look at some categories that help in creating some good professional-looking videos:
Meme Generator
Slideshow Maker
Invitation Maker
Facebook Video Ads
Listicles
Bite-size ads
Motivational Video
Corporate Videos or Webinar Promos
Branding and Sales Videos
More Highlights Of Invideo Features
InVideo has quite a good number of unique features that make it super impressive.
Templates Plus Video Types
It is a sure-shot hit among small businesses and influencers. Also, it's a dynamic editing tool that can be used to design instant videos for social media networks such as Instagram, Facebook, Snapchat, Linked In, Twitter, YouTube, and more.
InVideo comprises templates used for creating Outro or Intro videos along with testimonial videos. Generally, most videos that audiences create are article-to-video or script-to video; therefore, they do not need to use templates to create videos.
All in all, if you require making a visual article, then one can always rely on using InVideo.
The Exquisite Media Library
InVideo's media library is undoubtedly unmatched by many other platforms. However, their prime advantage is how much Premium footage one can use monthly on every plan.
Moreover, users can get interesting unlimited videos on their "Unlimited Plan" plus 300 videos/month on their essential "Business Plan."
And many other platforms offer affordable monthly downloads as they charge massively for it.
Incredible Support
On average, the support team of the platform usually takes 5 minutes. It even promptly hears out their community or users in the Facebook group. If you feel any doubt at any point, get stuck while editing, or do not know how this feature will work, the support team of InVideo will get in touch with you right away. They know that giving round-the-clock support is a key to keep users happy and content.
Create Nailing Storyteller Videos
InVideo, with its storyteller video feature, is top-notch to go along with your blog posts, listicles, and several other longer content forms.
With the help of this platform, you will witness an advancement in SEO that will hike your dwell time simultaneously. So now, if you have kids at your home and they get assigned some project to create storyteller videos, don't hesitate. InVideo is the best platform to meet your needs, and it is also easy to use.
The Advanced Editor
As InVideo is concealed with excellent features, you can make changes to any factor of your videos. One can alter colors, move things around, change transitions, and modify how things appear - So, do whatever you want to do in this editor.
Supports Numerous Social Platforms
InVideo envelops purposeful templates for every video type and video platform.
Also, it has already-made dimensions to make videos for site placements like the Facebook story, Instagram story, YouTube landscape, Facebook Newsfeed, Instagram Post, LinkedIn Newsfeed, IGTV, Facebook Carousel Ad, Snapchat Story, YouTube Story, Twitter Timeline, and more.
Considering everything, it's a platform that fills a critical requirement that marketing experts need. So now, let's jump into knowing about the features of this fantastic tool.
InVideo Features -In a Nutshell
Fonts
Text overlay
Visual effects
Media Library
Merge And Split Videos
Unlimited Character Length
Stabilization And Video Making
Text Boxes, Shapes, And A Lot More.
Thousand Plus Stickers
Font Quote Templates
Theme-Based Visual Effects
Article-to-Video/Blog Post
Enhancements (Masks, Collage, Instagram Posts/Twitter Posts)
Pros:
One Million Photos Library And Videos
User-Friendly UI
Automated Text To Speech
Pre-Made/Already Made Templates
100's of Free Templates
Can upload your media
Create unique videos in different or precisely any language.
Stupendous Video Quality
24×7 Great Customer Support
All these features and benefits are not available in other video editors at such an affordable price. So use on your own and reap the benefits. Once you use this fantastic app, you will automatically suggest it to others as well.
InVideo offers three types of pricing plans.
InVideo plans are affordable, along with an add-on of having exceptional features.
Moreover, the platform even offers a seven days trial plan on its "Premium Version." Thus, users can test its video editing option and features before buying it. If you are looking for an affordable video editing tool that comes with several helpful editing features, then InVideo is your go-to editor. After reading all its features and benefits, we are sure you will choose Invideo for your upcoming video project.
Conclusion
So, unquestionably InVideo is an Online video editing tool that creates wowsome videos for various social media platforms. With all its features, it is easy to use and comes with extensive media library options. Use any of the media libraries, and create the type of video you want to edit. This app is helpful for both reel makers, entertainers, ticktockers, and business people.
Presently, InVideo works perfectly on Chrome Browser, and it's like an unimaginable Canva for "Videos."
In all, the tool performs beyond perfection for home-run businesses and small companies who want to achieve something big in less time!