Smart Ways to avoid plagiarism using the Online Paraphrasing tools
08/26/2021 12:00 AM
by Malik Junaid
in Seo tools
---
Plagiarism is a term every writer is scared of. It is taken as serious misconduct in the online world as it has severe consequences on one's career. Plagiarism can cause students to get suspended from universities or fail in examinations, writers may get penalties for years and ruin their careers, and website owners may lose their websites.
In short, plagiarism is a nightmare, and everyone is now well aware of it. Therefore, your text must be plagiarism free and it is not difficult when online paraphrasing tools are in hand. But still, many newbie writers are struggling in making their content plagiarism-free and even professionals, sometimes, face accidental plagiarism.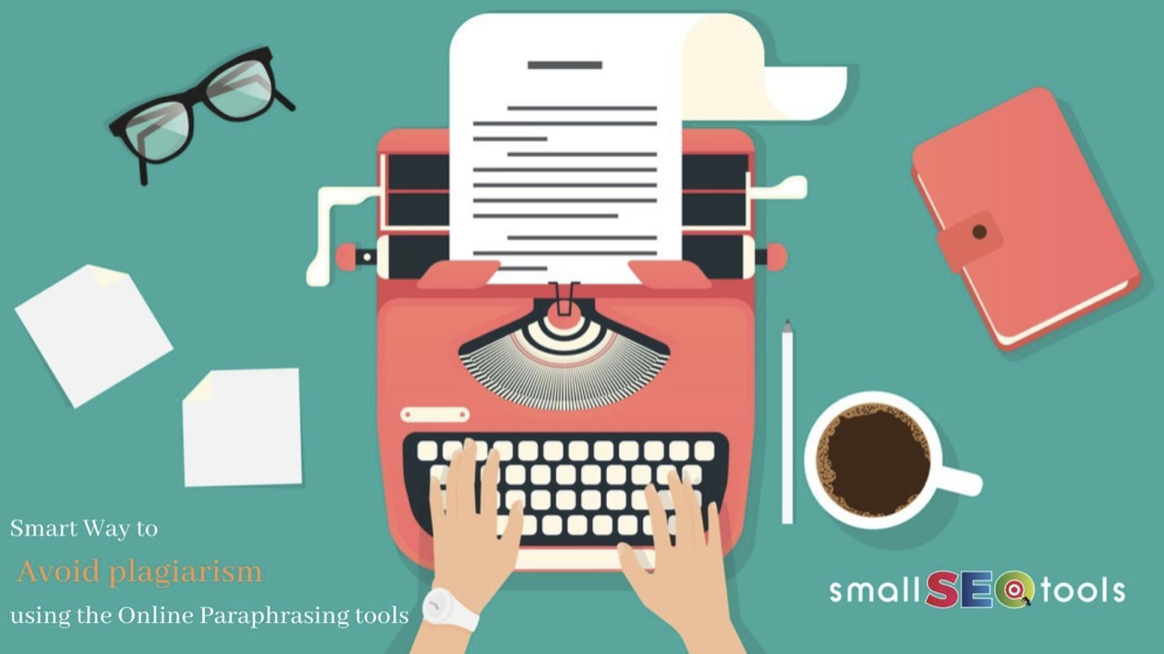 As per Google policies, punishment for plagiarism, either deliberately or accidentally, is the same, and no one can run from it.
So the main concern resumes here, how you can avoid plagiarism and make your content extremely unique and original. Though, there are several steps you may employ to avoid plagiarism, such as add quotations in articles, use citations techniques, use paraphrasing tools, and more.
In this article, we will focus on how you can avoid plagiarism by using online paraphrasing tools. But first, understanding plagiarism is important. So read on further to glance over the term, then pass on to how paraphrasing tools are helping in producing original and plagiarism-free content. So let's get started.
What Is Plagiarism?
In simple words, plagiarism is defined as taking someone's content from the Web and passing it off as you write it yourself. Plagiarism occurs when a writer publishes an article, blog, or review paragraph in the content writing field. Google considers it as cheating as you are expected to compose your article uniquely. Use this plagiarism checker to check for Plagiairsm.
Avoid plagiarism by using online paraphrasing tools.
Being a writer, you don't intend to republish an article by copying someone else's work in any way. Of course, mistakes can be made while rewriting an article, but correcting them and publishing them as yours cannot save you from getting plagiarized.
When we have access to a wide range of assistance, we must use that help wherever feasible. For example, the idea of plagiarism has been frowned upon for a decade or two. To avoid plagiarism, credit must always be given to the original author.
Also, to get around this, there's just another easier way: Paraphrasing. Using a paraphrasing tool is easy if you know how to use them for recreating already existing articles.
Below are a couple of important steps you must follow to get a plagiarism-free and exceptional piece of writing by using online paraphrasing tools.
Assemble your content
Before you go for using a paraphrasing generator, you'll need to have all the content assembled. The next step is starting your research on that particular subject matter.
Using a paraphrasing tool does not mean that your text will be rewritten from scratch. Be aware of the fact that it will only devour what you put out in its input. All of your material should be done to avoid any inconvenience.
Assembling all the content does not end on proper research; you need to ensure that content is free of all grammatical errors. You can use grammar check tool to check for grammar.
Grammatical and spelling mistakes distract the tool and result in obtaining an unwanted and poorly readable output. It's up to you to give it what you want to paraphrase.
In general, if the information you provide is accurate, the procedure should proceed smoothly for you, and you will be impressed by the results.
Trust the paraphrasing tool fully.
Nowadays, we are accustomed to being in charge and doing all the hard work by ourselves. But what works the best is smart work. So when a paraphrasing tool offers a free service to write content for you, what else do you want?
However, using a paraphrasing tool is not easy for everyone. If you're going to use online Paraphrasing, you'll need to have full trust in it. Many authors prefer to paraphrase themselves, although a tool might produce outstanding results.
You might not trust it in the first place, but you will be amazed by its results after giving it a fair chance. An excellent paraphrasing tool does not make you need any unneeded modifications after Paraphrasing.
In reality, Paraphrasing is a way to avoid plagiarism. So, to ensure the originality and quality of your content, a plagiarism checker is essential for all writers who will use a paraphrasing tool.
Using a decent paraphrase tool can reduce the chances of plagiarism as well as mistakes. Although you may find a wide variety of alternatives on the internet, not all of them produce high-quality outcomes. Stick with it when you do discover one that works well for you.
Moreover, we have also mentioned a couple of best paraphrasing tools for your ease.
Proofreading and editing
After Paraphrasing, you shouldn't overwork the information, but you must go over it at least once. Proofreading manually is the best. Also, you can use Grammar checker tools for enhanced grammar and avoiding spelling errors.
You cannot deny the significance of plagiarism checker tools. Prepostseo plagiarism checker is the best available software that gives 100% accurate results in no time.
Using such tools while final editing can save both time and effort. Whatever approach you use, keep in mind that you should only make minor changes to boost readability.
As part of the writing process, proofreading and editing are a must to do. However, all of these simple steps, when employed properly, will yield superb results.
Best Paraphrasing Tools
1. Rephrase.info
Rephrase.info is the best AI-powered paraphrasing tool. First and foremost, it recognizes and understands the meaning of the text and then comes up with the most suitable results.
It is famous for generating high-quality and unique content. However, it would help if you gave it a try for rewriting plagiarism-free, engaging, precise, and accurate content for free of cost.
2. Paraphraser.io
Paraphraser.io is one of the best Paraphrasing tools to use. The major reason behinds its popularity is the accuracy and uniqueness which is possible through AI technology. This paraphrasing tool is completely free and doesn't require any sign-up process.
It has three different modes for paraphrasing including Fluency, Standard, and Creative.
With numerous languages, users can easily paste or upload their text to paraphrase and generate unique content.
Paraphraser toll by smallseo.tools is one of the best paraphrasing tools online. The tool rephrases your articles for free. All you need to do is open and start using it.
It is an AI-powered paraphrasing tool that not only paraphrases content but also offers other writing tool options such as grammar checker, summarizer, and citation generator.
4. Paraphrase-online .com
Paraphrase-Online is a website that delivers effective and accurate results. For all writers, it is an easy-to-use tool that can quickly be accessible with no effort. It is quite easy to browse and can be reached fast, even by the students.
If you want to change the meaning of any text, you may use the built-in "Reword Generator." Furthermore, in a matter of seconds, it paraphrases an essay, an article, a phrase, or a sentence, saving your precious time.
Final thoughts:
Paraphrasing tools are the best aid for writers, and as a writer, you must embrace it when it comes your way! So why wouldn't you utilize a tool that operates quicker and more accurately than you could do it yourself?
A cop-out is not acceptable, and cheating is not acceptable either. When it comes to writing an exceptional article, all you need is your precious time and a lot of hard work.
Paraphrasing, as mentioned above tools regenerates content better, and there is almost no chance of plagiarism in your content.
But still, after Paraphrasing is done, make sure to recheck it by a plagiarism checker tool.