Here's Why Every Business Owner Cannot Afford to Ignore Getting a Premium Domain Name
06/07/2022 12:00 AM
by Malik Junaid Rasheed
in Internet
---
According to Statista, in 2019, more than 83% of businesses in the UK had a website. This proportion had increased from 70% in 2007.
And, as the internet gets increasingly linked with business, everyone in the sector who wants to build a great company that will thrive must invest in a strong online presence.
This includes not only getting an awesome-looking website but also a compelling domain name that allows clients to easily access your online business.
Premium domain names are one-of-a-kind; they serve as the foundation for your company's online growth and should never be dismissed. So, without further ado, let's look at how high-quality domain names can boost your business's success.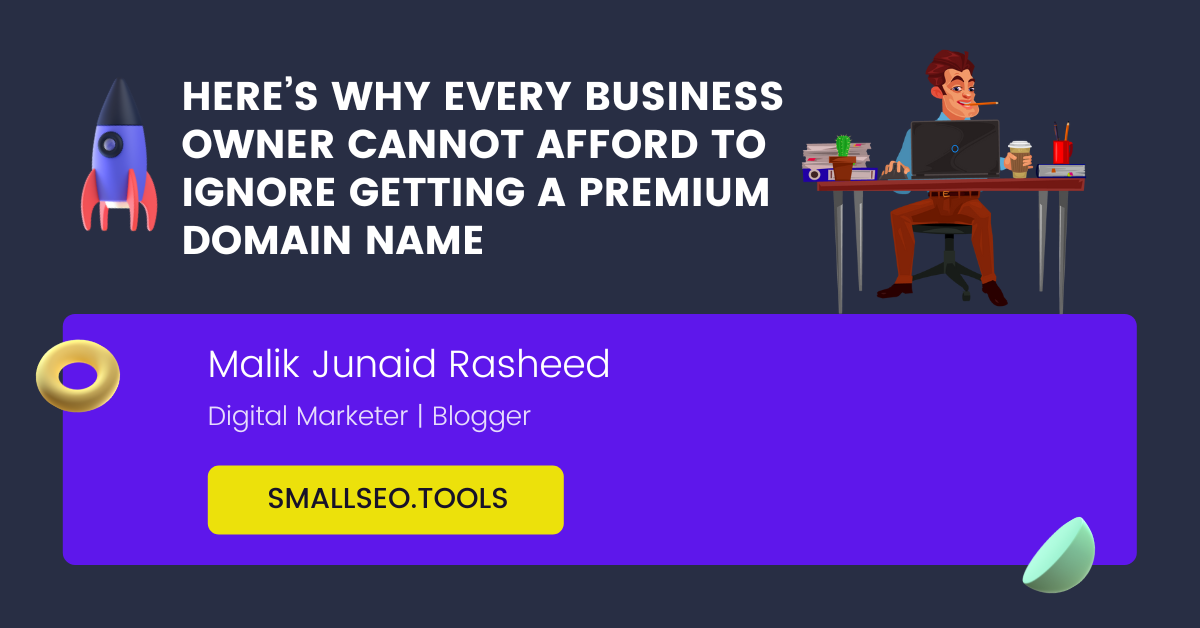 Here's How Premium Domain Names Can Help Your Company to Grow
They are Easy to Understand
The significance of having a simple domain name cannot be overestimated. Short and concise web addresses, such as those offered by premium domain names, are easy to say and remember. They also produce more accurate results when customers search for your company online.
Furthermore, it sends a strong message, allowing purchasers to instantly learn about your firm and its items by looking at the URL. Your business needs a great domain name, and one reliable way of securing it is by using a domain name generator.
They Include Relevant Keywords
Premium domain names like gmail.com and generalmotors.com use keywords to notify clients about the services they offer.
However, this does not imply that every premium domain name must possess keywords. Premium domain names without keywords, such as Apple.com and Tesla.com, radiate a new, imaginative, and creative atmosphere. Businesses with 'keyword-less' premium domain names can more easily develop a strong and appealing brand image.
They're an Excellent Match for Your Brand
Premium domain names constantly stand out because they are very effective at capturing the unique essence of your business's brand name. And that's why, as a business owner, you must make every effort to secure a domain name that is an exact match for your company name.
Given how much resources Alphabet Inc spent to increase traffic, it's evident that having a name that significantly varies from your company name will hurt your chances of success.
With that said, make sure you get a premium domain name that matches your brand name and social media handles since it's a proven method of improving your startup's online presence and making it easier to be found online.
They Contain Trusted Extensions
When looking for a great domain name, remember that the domain extension you choose is crucial to the performance of your company's website.
There are other website extensions accessible, but clients consider the .com, .org, .co, .net, and .io extensions to be the most dependable, established, and trustworthy domain extensions. And almost every premium domain name comes with these extensions.
As previously said, utilizing these extensions not only makes it easier for your clients to find your brand on the internet but also gives your website a sense of confidence and trustworthiness.
They Grow with Your Company
Unlike conventional domain names, premium domains, especially ones without keywords, can grow with your business. And just as Twttr updated its brand name to Twitter, most organizations that don't pick a premium domain name eventually wind up upgrading their brand's insufficient domain name with a premium one.
Yes, a great domain name like 'grammarchecker.io' may appear cool and appealing, but it will confine your company's growth progress since customers will only associate your brand with grammar checkers.
As a result, you must select a premium domain name that represents both your company's current offerings and its future ambitions.
Premium Domain Names are Vital
Your company's online identity is represented by its domain name. Obtaining a distinctive premium domain name such as Google.com will give your organization fantastic branding opportunities to position itself as a leading company.