Why Good SEO Is Not Magic, But It Is Necessary and Essential
03/07/2023 12:00 AM
by Malik Junaid Rasheed
in Seo
---
The ability to have an online presence that is found by those that you want to interact with is one of the key aspects of the current age. The entire process of shopping and purchasing pretty much anything from anywhere has all moved into the online space and as such it is a simple process of logic to state unequivocally that unless these opportunities are able to easily find you when looking, they will simply buy it from elsewhere.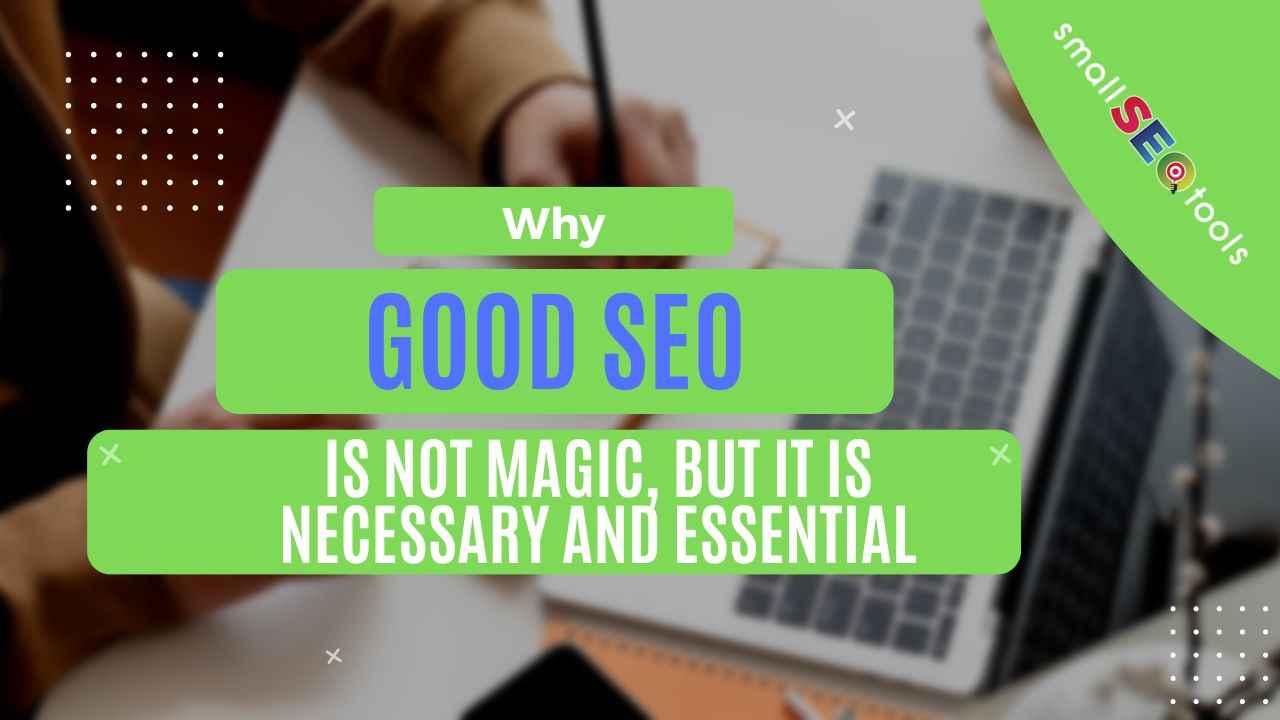 What is Search Engine Optimization
The organic search, generally using Google, is the main way that potential customers and clients look to find what they are looking for, when they need it. There are indeed other search engines that are used, but Google is the main search engine that is used by most people who are looking for information online. Hence when discussing SEO, it is generally the Google search algorithms that are used as the examples.
Search engine optimization is about ensuring that your content and site as a whole meets the criteria as set out by Google to ensure that you are found for the aspects of your business that you intend to push or market.
Why SEO is Necessary and Essential
Credibility: Being ranked highly on Google or Bing for the products or services that you sell or make is one of the main reasons buyers will come back to you. It builds credibility that Google has found you to be worthy of a high google ranking on search results. This ranking also provides a sense of authority to the business in that you have been found to be a top ranked service in whatever sector you are in.
Volumes: No matter what it is that people want to buy or experience, they generally start with an online search. In simple numbers this means that you can't afford not to be found. Your content, titles and imagery on your website or online presence all need to be clear and interactive.
Data gathering: Having your search engine optimization, will allow you to use the associated analytics to monitor and maintain the efficiencies of your customers searches. What terms are searched for and why?
Ongoing SERP updates: Google and the other search engines are generally updating their algorithms to show what type of page or website will be ranked and appear on the first page of the results. This is predominantly why using a professional service such as clickintelligence.com to manage your SEO or complete regular changes and research on your keywords, titles and content is a worthwhile investment – their job is to stay up to date and always understand the best techniques to use.
The Simplicity
As long as you understand what search engine optimization is, you will be able to make the requisite adaptation to your online content or website. As aforementioned, outsourcing the process is popular, but there must also be buy in across the organization or business in terms of what you want to be found for and why. Keep in mind that the search results will be a wide range of different types of articles and information, so being able to rank among these or above them is critical.