Your Ecommerce Store's SEO Checklist to Increase Website Traffic and Sales
03/19/2023 12:00 AM
by Malik Junaid Rasheed
in Seo
---
A robust search engine optimization (SEO) strategy is essential as ecommerce retailers get ready for the anticipated rise in online shopping in 2023 to make sure that your business is well-positioned to reach clients. It's an effective tool for enhancing an online store's visibility and standing in search engine results.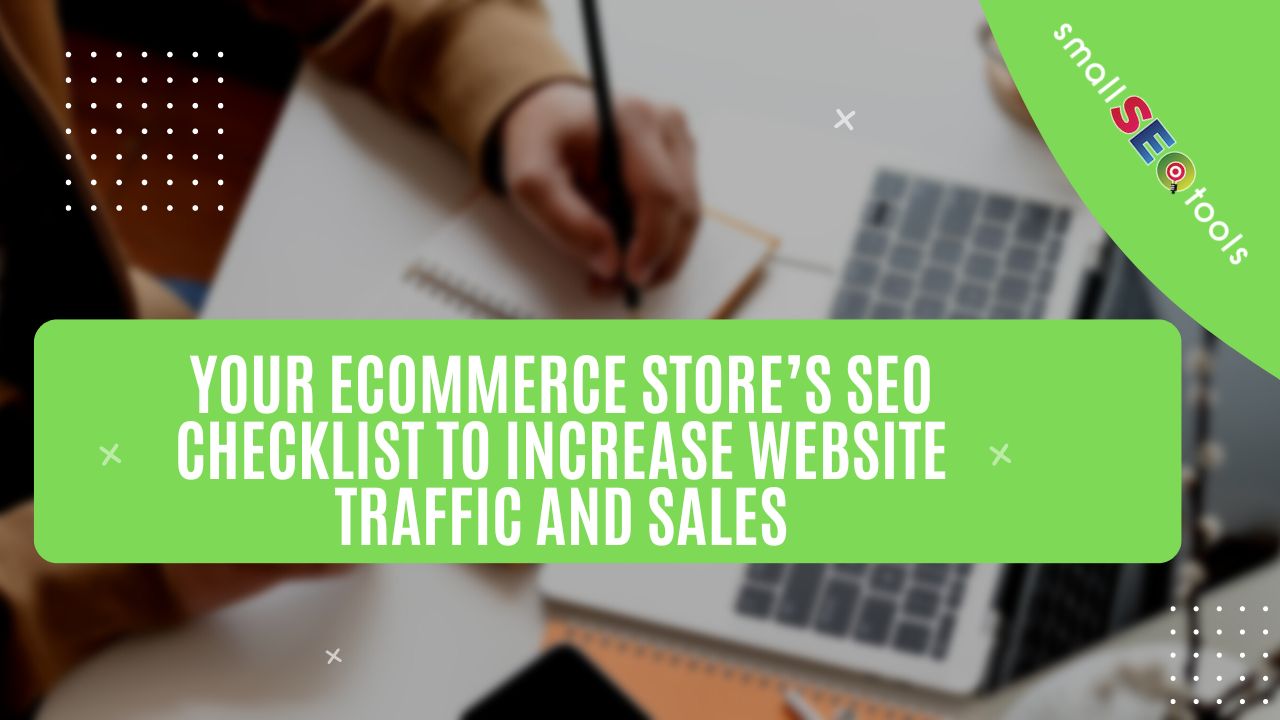 Optimizing your website with SEO can attract more visitors, boost your search rankings, and increase your sales. But how do you get started?
Here's an SEO checklist to help you get started with boosting your ecommerce store's traffic and sales.
The Growth of the E-commerce Sector
The e-commerce growth is visible in nations like the U.S. and Australia, where the use of online purchasing services has increased noticeably.
The U.S. alone accounted for 7.7% of retail e-commerce sales growth in 2022, with a total value that reached a whopping $1 trillion U.S. dollars.
In Australia, online businesses and e-commerce stores have responded by investing in improved technology and offering better customer experiences, such as faster delivery times and easy returns policies.
Further, they have also taken advantage of the services from the best SEO services in Sydney, Melbourne, Perth, Queensland, and other metropolitan cities that are heavily populated with online consumers. These called for proactive digital marketing strategies to reach more customers, such as targeted digital ads and email campaigns.
The sales for the e-commerce sector in Australia is expected to hit $32.3 billion in 2024, making it the eleventh-largest e-commerce industry worldwide. It can be attributed to a number of factors, including simpler technological access and improved services from online retailers.
Research keywords.
Start by researching the keywords and phrases your target audience uses when searching for products like yours.
Use keyword tools to find out which terms are being searched, how often they're used, and what type of competition exists for them. Think about synonyms or variations of those terms that could yield good results.
Optimize your website structure.
Make sure that your website's architecture is optimized for search engines to crawl. To help search engine crawlers understand what the page is about, use HTML tags like H1, H2, and meta descriptions to identify the structure of the page's content.
Set up analytics.
You can monitor the success of your SEO efforts by setting up Google Analytics and other website tracking tools. Further, you can make wise judgments about where to concentrate your SEO efforts for the greatest impact by analyzing the data from these tools.
Optimize content for SEO.
Ensure all of your ecommerce store's content is optimized for SEO. This includes product descriptions, blog posts, and other pages on your website.
Keywords in each page's titles, headings, and body copy indicate what the page is about and help search engines understand it.
Build links.
Link building is another important factor in SEO. Make sure that you're creating quality backlinks to your website from other websites that are related to the topics and products you sell.
It will help search engines recognize your website as an authoritative source on those topics, which can improve your ranking in search engine results.
Optimize images.
Ensure that all of your website's images are optimized for SEO. Include relevant keywords in each image's file name and alt text to help search engine crawlers understand what the image is about and why it's important to your page content.
Utilize local SEO.
It involves optimizing your store for customers in a specific geographic area by ensuring that local search listings are accurate, complete, and up-to-date.
It's crucial, for instance, to check that search engines like Google accurately show your store's name, address, phone number, and operating hours.
Leverage reviews.
Reviews can significantly impact your store's success in 2023 and beyond. People rely heavily on online reviews when considering whether to purchase from an ecommerce store, so you must build a favorable review profile.
This can be done by soliciting customer reviews, responding to reviews promptly and professionally, and utilizing online review platforms such as Yelp.
Optimize your product pages.
It involves optimizing the titles and descriptions of your product pages for key search terms related to the product in question. Additionally, it is important to ensure that all product images are optimized for the web by using alt text and appropriate file formats.
Monitor progress.
Last but not least, make sure you keep track of your SEO development over time. It's crucial to keep an eye on your website's performance using analytics tools and tweak your strategies if necessary to keep up with the competition.
Final Thoughts
Following the steps in this SEO checklist will help you get started with optimizing your ecommerce store for search engines. You can increase the exposure of your website, draw more visitors, and increase revenue by putting these methods into practice. Also, you may develop an efficient SEO plan for your e-commerce site that will positively affect the bottom line of your company with time and work.