How to do SEO on Your Own: 5 Steps for Basic DIY SEO
04/13/2022 12:00 AM
by Malik Junaid Rasheed
in Seo
---
While the benefits of hiring an experienced digital marketing team go unmatched, there are ways you can make your website SEO friendly on your own. Whether it's due to budget or bandwidth, there are many reasons why you might want to take matters into your hands. Thankfully, whether you need local or enterprise SEO, there are steps you can take to set your business up for SEO success. Keep reading to learn more about DIY SEO and what it can do for you!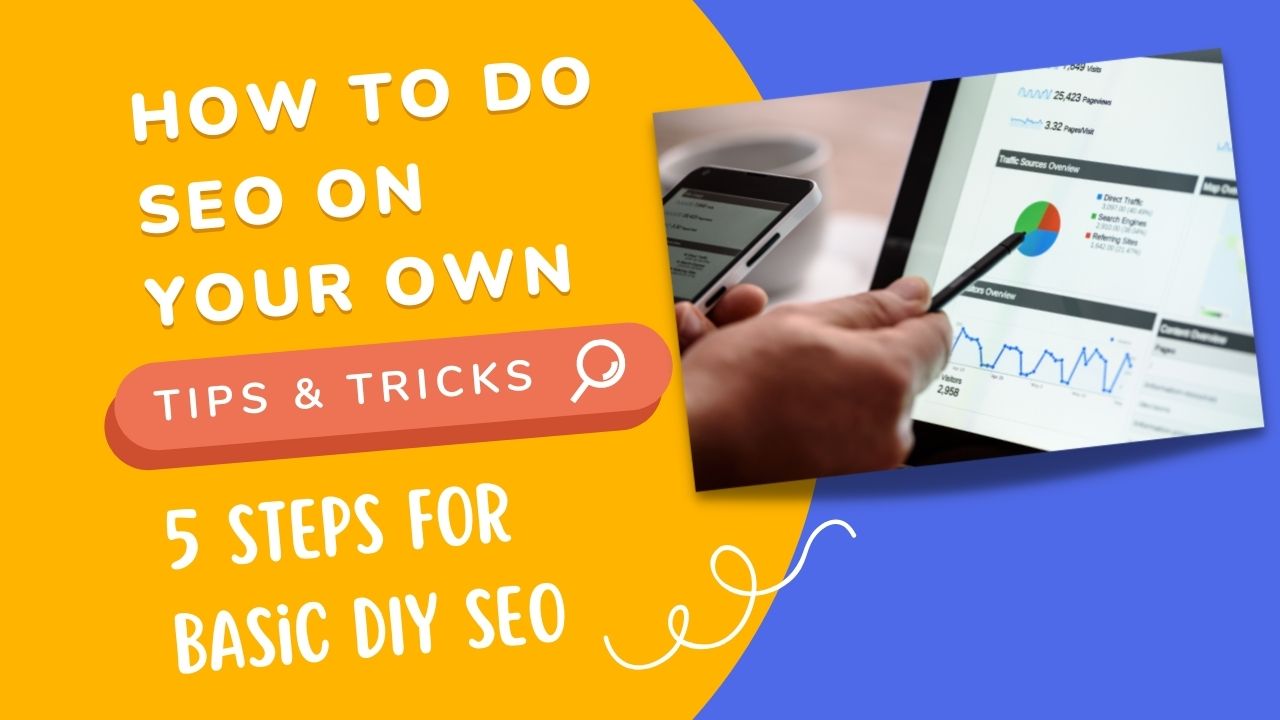 What is SEO?
SEO stands for Search Engine Optimization, which is a set of techniques and practices that aim to improve organic traffic and website performance. The ultimate goal of SEO is to rank your website for the top 3 Google Search results, if not the very first. There are a few main branches of SEO that can help achieve this. Those branches include:
On-Page SEO
On-page SEO includes the non-technical aspects of SEO such as the design, content, layout, keyword choice, and keyword placement. Simply put, this covers basically everything that happens on the pages of your website.
Technical SEO
Technical SEO involves more back-end processes that can help Google crawl (also known as an audit) your website more easily. Aspects of technical SEO include website structure, indexability, links, schema, errors, code, image optimization, and meta tags. This branch of SEO also prioritizes user experience metrics, such as readability, site speed, and device compatibility.
Off-Page SEO
This branch of SEO pertains to, you guessed it, all off-page activity. This will include link outreach, social media, guest posting, social bookmarking, and more. Link outreach, being arguably the most important area of off-page SEO, can bring high volumes of traffic to your site through quality content and trustworthy backlinks. A strong backlink strategy will also improve your site's authority score, improving its overall visibility.
Why is SEO Important?
With all this information, you may be wondering why SEO is important in the first place. Because SEO targets unpaid traffic and overall visibility, you can achieve better organic performance. As a result, your website can better generate "free" traffic and increased revenue with the right strategy. Since SEO focuses on unpaid traffic, you can achieve long-term, more sustainable results in approximately 3-6 months instead of (or in addition to) paying for pay-per-click advertising.
5 Steps for Basic DIY SEO
A team of SEO professionals can really make a difference for your business. However, your website might need some SEO juice without breaking the bank. Investing in a reputable SEO company can give you the ultimate bang for your buck, however, there are some steps you can take in the short term!
1. Understand Your Target Audience
Understanding your target audience is just as important for SEO, as it is for your overall business strategy. Knowing who your audience allows you to formulate the most effective SEO game plan. This will enable you to target the most relevant keywords (search terms) and use them to optimize your website. Not only that, knowing your audience's demographics will help you with link outreach as well. You can use a tool like demographics.io to get started.
2. Learn Keyword Research & Planning
Keywords are search terms that users type into the search engine to find particular information. Knowing which keywords are most relevant to your business will help you develop your on-page SEO, content, and link strategies. Once you've identified who your target audience is, you can research what kind of keywords they are typically searching for when it comes to your industry. There are many tools you can use for keyword research, such as:

3. Incorporate Keywords into Your Site
Once you've identified the keywords that have the highest volume and the most relevancy, you can start using them to optimize your website. Incorporate these keywords into your URLs, headings, and landing page content. Additionally, you can rename the file name of your images as keywords and reupload them onto your site. Your website hosting platform will prompt you to give your image an alt tag - you should place another targeted keyword here as well.
4. Write High-Quality Content For Your Site
Your content strategy should be based on the keywords you are targeting. You do not have to write the content yourself, as it can be easily outsourced. However, the topics of your content should be based on your highest volume keywords. This content can bring visitors to your site, and with the proper call-to-actions, the likelihood of them engaging with your site increases. Additionally, the content you use for your link outreach should also contain relevant keywords and topics!
5. Learn Google Analytics & Monitor Your Website Performance
Google Analytics can be a very useful tool when it comes to analyzing and monitoring your website traffic. This platform can monitor behavior and engagement metrics that occur when users interact with your website. This will help you investigate reasons why traffic may have dropped or increased - helping you make the most of your website's performance. When you see your website's overall organic traffic drop, you can go into individual pages to possibly identify a culprit and potential solutions, like further optimization or improved content. Google Analytics can be an intimidating platform to learn, but Google offers free courses that teach you how to navigate through its many features.
Conclusion - How to do SEO on Your Own: 5 Steps for Basic DIY SEO
The world of SEO is boundless and ever-evolving. Google is constantly releasing new algorithm updates that inevitably change our SEO strategies. On top of that, SEO experts always argue the level of importance of content, keywords, backlinks, and so on. At the end of the day, whichever SEO techniques bring out the best performance in your website makes for an effective SEO campaign. Now that you have learned about the basics of SEO, you can set your website for success with these 5 simple steps to get your website started!